I've seen a few charts floating around on global earnings revisions, and this is certainly something we track. As you might expect, we take a unique angle on this, and the chart in focus today presents a particularly unique indicator on global earnings revisions trends – and what it means for stocks.
Today's chart comes from a report on the outlook for Global Equities, which covered market breadth, valuations, earnings, and sentiment indicators.
Simply, the chart shows a total global collapse in earnings revisions.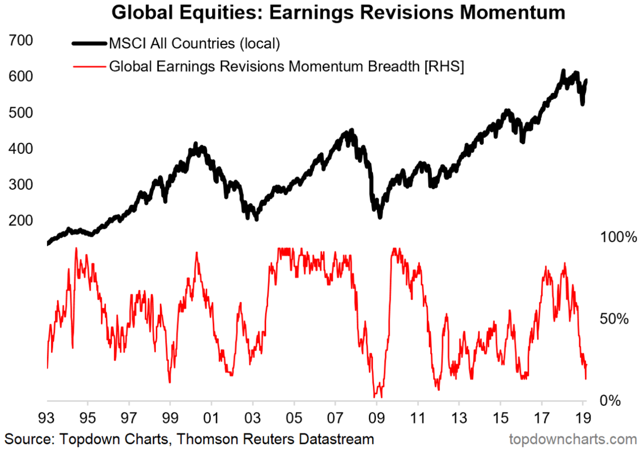 Onto the detail. What we've got here is the breadth of earnings revisions momentum across the 45 countries we monitor. Specifically the proportion of countries whose earnings momentum score (combination of the earnings revisions ratio and short-term percent change in consensus earnings), is positive. So as you can see this indicator dropped to 0% in 2009, and was close to 100% in the boom years.
Basically this indicator tells you how healthy the global corporate earnings picture is… or does it? The indicator is built off of consensus earnings estimates from the Refinitiv I/B/E/S dataset (the gold standard for consensus forward earnings), but where these numbers ultimately come from is the estimates of analysts, and analysts are people… and as all good students of the market know, people are prone to swings in sentiment; often becoming too pessimistic at the trough in the cycle, and too optimistic at the peak of the cycle.