Crude Oil gathered its breathe and caught a bid in June last year. It paused briefly in August and then continued higher racing to a top in January. That created a 5 month rising channel. But as I wrote here last week, Crude Oil had a change of character then. The pullback into the February low established a wide sideways consolidation. It got back to test the top of the range at the end of March but could not crack the ceiling and fell back.
The higher low in April, seen in the chart below, then served as a launching point for the Crude oil to move back higher. And Thursday it did break the ceiling and close at a new high. A multi-year high. This was a price level not seen since November 2014. What does this mean for the price of Oil going forward?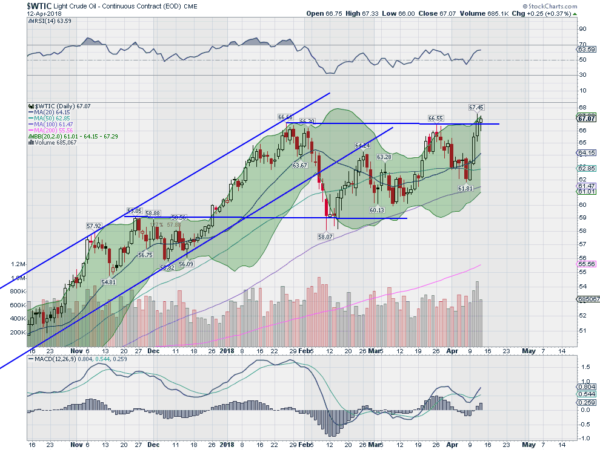 The next major price level is around 75. That served to kill a run higher in 2006, and it also was the center of broad consolidation in 2010. The round number at 70 could also create some stickiness, and then there is the Measured Move higher out of the consolidation that gives a target to about 83. None of these targets are good for the summer driving season, but could give a real kick higher to the broad market as lagging oil related stocks gain. Keep an eye in this sector.